Celebrations started a few days earlier, when Hendrick's newsies distributed The Unusual Times, a creative newspaper edition by Hendrick's Gin, in Athens and Thessaloniki city centres. Passersby were also handed –what else– cucumbers to garnish their Hendrick's Gin & Tonic and enjoy its special taste to the full. What is more, those lucky ones that found themselves in one of the 24 preselected bars in Athens and Thessaloniki were able to enjoy not only Hendrick's Gin & Tonic, but other Hendrick's signature cocktails as well, at special prices – raising their glasses to the cucumber, of course!

Celebrations peaked on World Cucumber Day with a spectacular party at a setting very close to the beloved fruit's heart. Our favourite pop-up restaurant Überness at the Central Market of Athens was transformed for just one evening into an Unusual Fruit & Vegetable street market, to welcome the aficionados of the renowned super premium gin and its companion, the cucumber.
In a one-of-kind environment, the greengrocers of this cucumbery market invited guests to the challenge of picking a cucumber that would unveil their own unusual side, while enjoying refreshing Hendrick's cocktails.

Fun skyrocketed when all of a sudden the band "The Bon Viveurs" (ex-Burger Project) joined the party. Just like greengrocers in street markets, the band livened up the evening, entertaining guests and giving a perfectly unusual ending to World Cucumber Day.
Hendrick's Gin has always had very close ties with cucumber. The unusual distillation process of this loved gin includes an infusion of rose and cucumber, which yields an extraordinarily mixture, a rare union of lightness and complexity.
After all, what better way to enjoy a Hendrick's cocktail than with a refreshing green garnish cut from the same fruit that gives Hendrick's its pleasingly unusual flavour!

About World Cucumber Day
Hendrick's Gin is uniquely infused with cucumber and rose, and best served with a slice of fresh cucumber. World Cucumber Day is an annual celebration of this remarkable fruit and unusual hero of Gin & Tonic, which brings a pleasantly unconventional touch to people's daily routine and inspires them to embrace and cultivate their unusual side.
#WorldCucumberDay #HendricksGin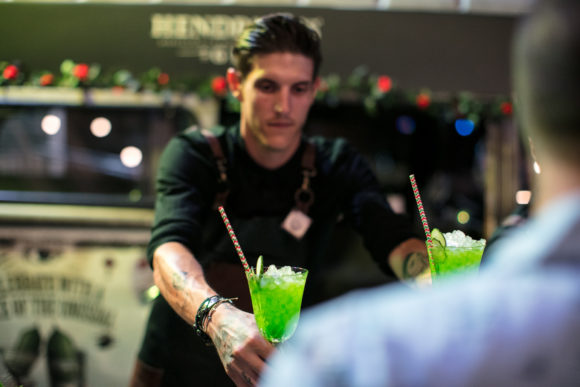 #WorldCucumberDay #HendricksGin